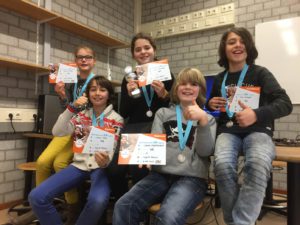 A group of ESB pupils passed the touch-typing exam recently. Congratulations to all of them! Anne Tesselaar P5N (in the middle on the photo) is setting a family tradition by winning the Cup; her brother won the Cup in his course year.
Over the past few years almost 60 pupils successfully have followed the course.
On Wednesday, 1st March,  a  combined Dutch/English course will start and there are still a couple of spots available. Enrol today and send an email to Ingrid Peters on ingrid@gigakids.nl The course is organized through the Extra Curricular Activities programme of the ESB Parents' Association.