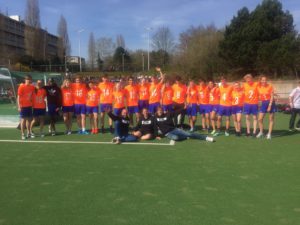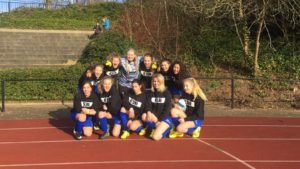 At the 22nd of March a team of 15 boys and 15 girls went to Brussels for the Eurosport 2017 event. After everybody met his or her host family it was time to prepare for the following 3 days.
In Eurosport athletes from all the different European Schools gather and compete in various sports against each other. This year the sports were: football, volleyball, badminton and the biathlon.
The first day volleyball boys, football girls and badminton was on the program. A long day started for most of us at 6:30 am. The weather was nice and we could do what we came for, sports! It was a day with different experiences for everybody (intimidated, aroused, amazed and especially joyful). After a long day ending around 18:30, we went home tired and hungry. Knowing 2 more days were ahead of us.
The second day the program was contra to day the day before. The boys played football and the girls volleyball. An exciting day because the girls ended 7th which was a great performance and the boys did very well in football. Sadly enough after finishing second in the poule we had to play Munich, the winner of the football competition. We played 1-1 but lost by penalty kicks. Too bad because we played really well.
The last day the biathlon was on the program. Swimming in the morning and running in the afternoon. The running course was very challenging. It had different undergrounds, was hilly and if this wasn't enough there was a lot of wind, hard wind. A demanding run for everybody, especially after 2 long days of competition.
We ended on place 13 leaving Mol, Frankfurt and Strasbourg behind us in the final ranking.
Although we weren't the best athletes, we definitely had the best spirit, a really positive attitude, head up and proud.
I'm personally overjoyed at having gone to Eurosport again and want to thank everyone involved, especially Mr. Rijk, Mrs. Schoffelmeer and Mr. Haenen for coaching us and ensuring this trip was amazing.
Lucas Balluff, S7E