The Model European Council (MEC) is an annual event which brings together the European Schools for a role play simulation of a European Council summit. "Countries" comprising 5 students cover areas of interest in council: Heads of Government, Foreign Affairs, Ecofin, Justice and Environment.
This year we were the Commission and the Czech Republic. The Commission had to write two proposals for amendment and guide them through the respective council. The Czech Republic were one of the 28 countries of the EU trying to amend proposals in their own interest. The MEC is two days of intensive debate including council sessions, urgent plenary debates, press questions from two press teams and a social media team.
The ES Alicante organised  the event and the EU Intellectual Property Organisation hosted us. They provided us with excellent facilities and very impressive council rooms.
The students learn the nature of political compromise resulting in creating legislation. The simulation is remarkably real. Students enter into their roles very quickly and convincingly. The MEC is an absorbing experience and as such becomes a deep learning experience.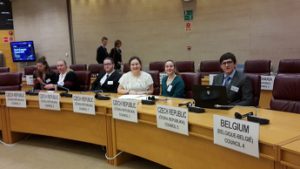 Czech Republic: Perry Colonval, Ciaran Niezen, Teresa Bolado, Lourdes Jimenez-Villarejo, Tadhg-Lorcan Oude Essink (and Frau Mesch making up the extreme left).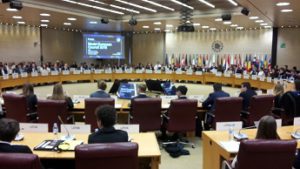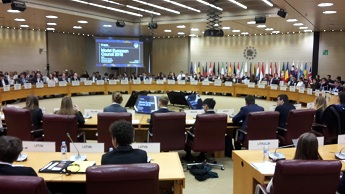 The Plenary room in the EUIPO building.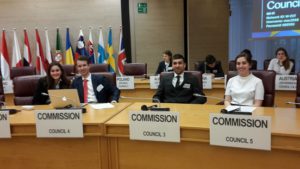 The Commission: Adelaida Jimenez-Villarejo, Patrick Gonzalez, Poyraz Baykam, Araidna Salas-Roca (Imeltine van Essen was there in spirit from beamed over from her sick bed in North Holland).
Students have a lot of time in the evening to socialise with students from other European Schools and as such the event becomes a very effective way of binding the disparate schools together. As one student commented, "It is nice to be with students who are like us".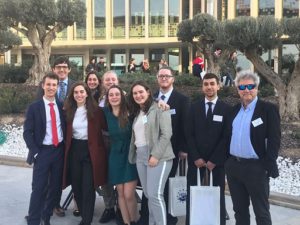 Czech Republic and Commission and some random Blues Brother fan who wandered in to hog the photo…
It is an amazing experience, the MEC. If you want a taste of what it was like here are the MEC Media Team's links to their posts on social media.
Have a look…
Website : https://mec2018.com
Blog and Newspapers :
https://www.mec2018.com/blog.html
Facebook : MEC2018Alicante
https://www.facebook.com/MEC2018Alicante/
Instagram : #mecalicante2018
Thanks to the students who made this MEC such a success.
Next year, Frankfurt!
Stuart Idell and Tomma Mesch