Our former student Marie Chaplet will enrich your life with her beautiful warm voice. I am very proud that she was in our school for many years.
After months of dedicated effort and exact finetuning, the sublime vocalist Marie Chaplet is ready to release her new EP.
"Summer Sweetness" contains 5 tracks, existing of the most compelling love songs to emotional sad songs, but also summer grooves; all in a 'jazzy' atmosphere.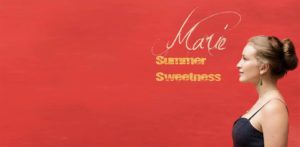 I am a huge fan of her work and I hope that you will like it to!
Kind regards
Mrs. de Vries (Art)