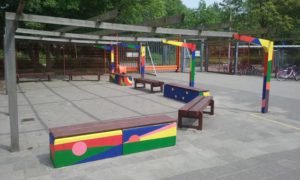 Without naming anyone specifically, we would like to thank all of the outgoing members of the PAC from 2015-16 for all the excellent work they have done to support the schools and your children. We have been able to work really well with them, and last year was a calm and productive year in which there were many positive developments – not only the excellent Euromarkt, but also some of the other initiatives such as the mirrors in one of the rooms (which most people have never visited) for extra-curricular activities; and the very visible and colourful painting in the primary playground (see above). If you look for the small picture at the bottom of the page you will find this as the link to the website of the PA which will give you a lot more information about the AGM and the activities of the PA.
As well as being involved in community actions such as the ones mentioned above, the Parents Association in every European School plays a very important part in the various committees in the school and in the system such as the Primary and Secondary Education Councils, the School Advisory Council, the Canteen Committee, the Risk Team, the Administrative Board and Interparents (to name just some of them).
We are all working for the same things – to provide the best possible teaching and learning environment for your children – and to do this also in a small school with fewer resources than the larger schools requires creative thinking, diplomacy, good communication skills and team-work. We hope that the new PAC will embrace this vision in the same way that the PACs of the last few years have also done, and we therefore look forward to working with you during this school year. We would like to encourage any parents who are interested in having more of an influence in supporting the school to participate and help us to create again a positive and constructive dialogue. The more of you who are involved, the more we know what your views are – so please come along to the AGM. Unfortunately I cannot be there because I have a meeting in Brussels, but if you have any questions about things from the school perspective please contact me.
Best wishes, Steve Lewis